New Winter Hours
Mon-Fri 9-5, Sat 9-3 and Sunday Closed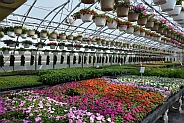 We are a family business owned and operated in St. Clair County since 1959. Our family has worked in the agricultural industry helping our customers grow and care for their soil and plants for over 59 years. As an extension of our original lime and fertilizer business, our retail store has been providing a large variety of domestic and farm animal food, lawn and garden supplies and simply incredible pumpkins for over 25 years.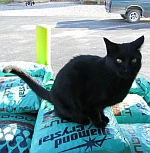 Our years of experience in plant and lawn care enables us to provide our customers with knowledgeable and effective insight to assist them in accomplishing their lawn and garden plans. Our 'Mr. Jinx Says.....' web feature will provide you with timely info you'll need to do the right steps at the right time to increase your likelihood of success.
Our four Gramma's Greenhouses provide a large variety of spring and fall flowers and vegetable plants to cover all your landscaping and garden needs. We personally grow everything you see in our greenhouses from seed to mature plants. We also provide all the necessary potting soil, fertilizer and gardening supplies you need to keep everything green, blooming and beautiful.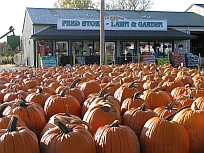 We're located on Wadhams Road north of Ravenswood and the railroad tracks - we look forward to seeing you soon!