Fall Is All About Pumpkins and Mums
Pumpkins Galore!
Fall brings a very festive time to the grounds and greenhouses at F.C. Simpson Lime Company. Area families make their annual trek to choose their favorite pumpkins to carve as well as cornstalks, gourds and hay bales to decorate the front porch in preparation for the Halloween season.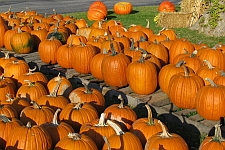 We have a huge selection of pumpkins, from 2 to 200 lbs - yes, we have the monster pumpkins that the true pumpkin aficionados love to display in their yard. Of course we have a full range of sizes so all the pumpkin carvers at your house can test their carving skills in time for all those Trick-or-Treaters.
Mums of All Colors
If you like flowers and color, you've got to like fall mums. Fall mums fill the color void in the garden while the days are still warm, but a lot of our summer annuals are winding down. They're great for borders, mass plantings, containers — anywhere you want color. The gradually diminishing sunlight of autumn prompts fall mums to bloom just at the right time.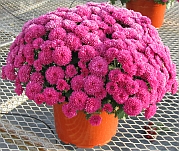 Our selection of over 1200 garden mums of all colors will help you transition your home and yard from summer to fall, add the right touch of color and brighten up your home.
We also carry fall lawn fertilizer that you'll need for that final pre-winter spreading that will green up your lawn come next spring. We even have a steady supply of bagged fresh carrots for all you avid hunters.