Spring Time
When the sun starts shining and the warmer air starts to wake up your lawn and garden, we're ready for you with all the plants, vegetables, potting soil, pots, fertilizer and pond supplies you need at competitive prices.
Our large assortment of annuals and perennials will add that color to spruce up your yard and patio. We have variety of hanging baskets, porch pots and other planting containers. We also offer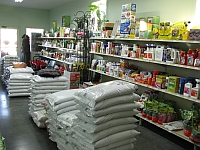 Hoping this year will be the year that your lawn is golf course quality? Then you need to get your lawn on a proven lawn fertilizer program. We stock a complete line of 3-4-5 step fertilizer programs, from crabgrass prevention, to weed & feed (kill those nasty dandelions), to slow release fertilizer for those hot summer months, to the final fall application.
And now a quick word about fertilizing - if you are using standard fertilizer rates and your plants appear healthy, we recommend continuing your current fertilizer regimen and soil sample only if you wish to reduce the risk of, or diagnose, a potential nutrient deficiency or toxicity. If you have been using standard fertilizer rates and your plants are not thriving or producing well, soil testing may be the only way to determine if your garden has abnormal levels of nutrients. Although it is often thought that 'more is better', gardens can have excessive nutrient levels due to high inputs of compost and/or fertilizer. Excessive levels of fertilizer are not only a waste of money, but can be harmful to your plants and the environment.
Ponds also get great attention at F.C. Simpson Lime Company. We carry all the supplies you'll need to get that pond in shape for the summer. We offer 6 types of pond dye and algae control to keep your pond crystal clear and free of algae.