Gramma's Greenhouses
In our greenhouses you will find that every plant we sell is grown right here on the farm. That includes proven winners, bedding flowers, herbs, vegetables, hanging baskets and patio pots. This whole process begins in February for the annuals and lasts thru the end of June when the fall garden mums are planted.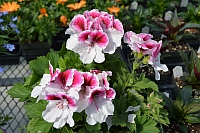 We take extra care in the selection of just the right flower species and colors to insure we have a wide variety to offer you to give your home great curb appeal. Our four greenhouses provide plenty of spring time selections to choose from.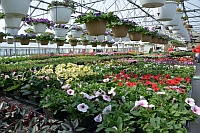 If you have a passion for growing your own vegetables and herbs, we carry a large variety of vegetable plants and herbs to fill out that garden space.
If you like, you can bring in your hanging basket or patio pot and we will fill it with your favorite colors or our staff will design a unique combination just for you. We also have a selection of potting soils and everything you need to have a successful season with your flower or vegetable garden.